Hello and welcome to Marc's coin op and game room site. This site was created so I could share my collection with others in the Coin-Op hobby.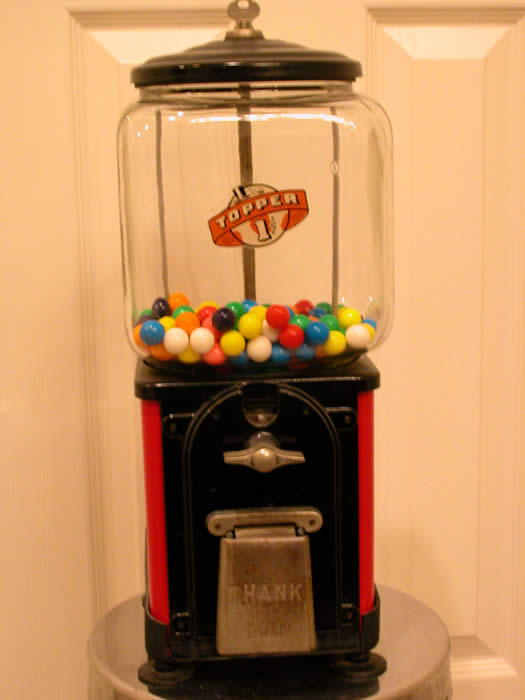 I enjoy and collect all types of coin op machines, including antique gum and peanut vendors, juke boxes, slot machines, trade stimulators and pinball machines. My obsession with these machines quite literally began at age 4 when I saw a rack of gumball machines in my aunt's garage. My uncle had passed away and had a small vending route. I asked if I could have a gumball machine, and of course I was laughed at. When I was 12 my dad bought me a my first machine, a Victor Topper which is still one of my favorite machines.
I am constantly searching for machines to add to my collection whether by outright purchase or trade. I love to see pictures of other people's collections or simply talk machines, so feel free to contact me with pictures, information, questions or machines for sale (jomax9@hotmail.com). Please see my WANTED page.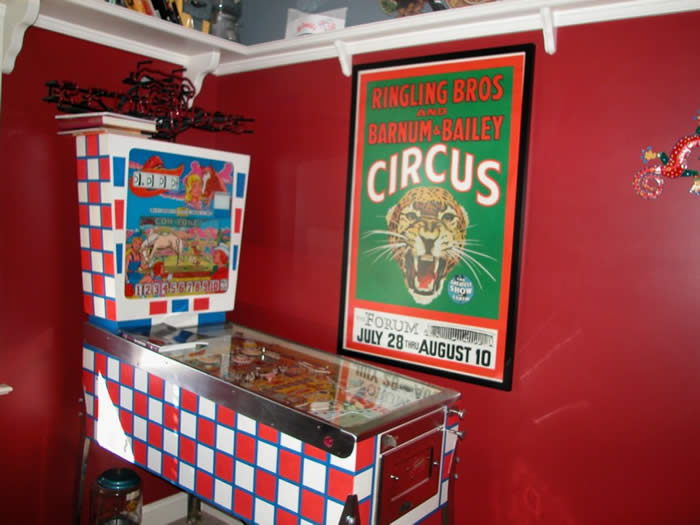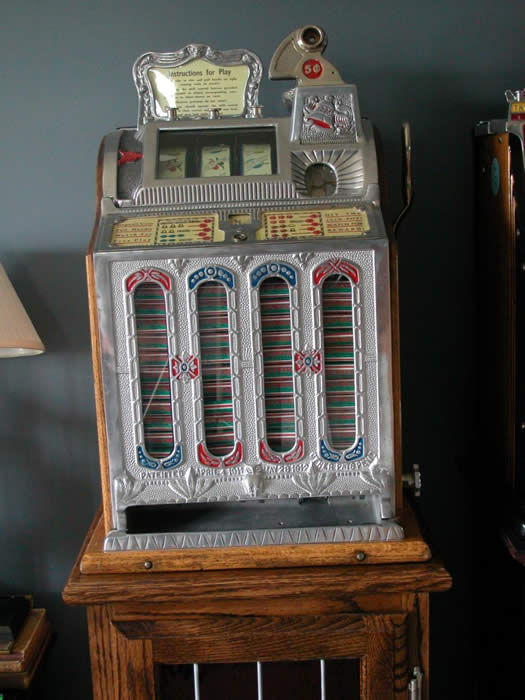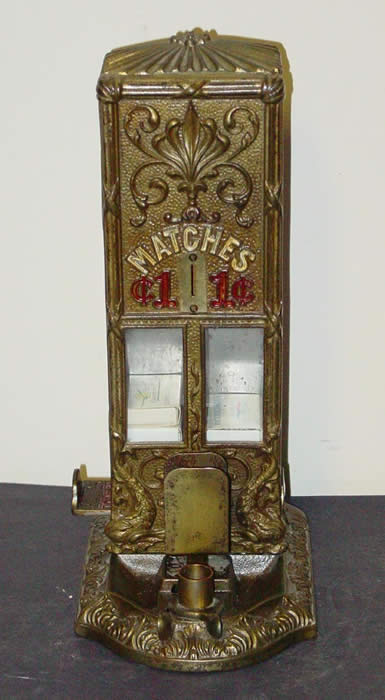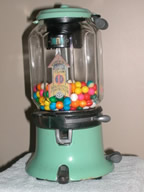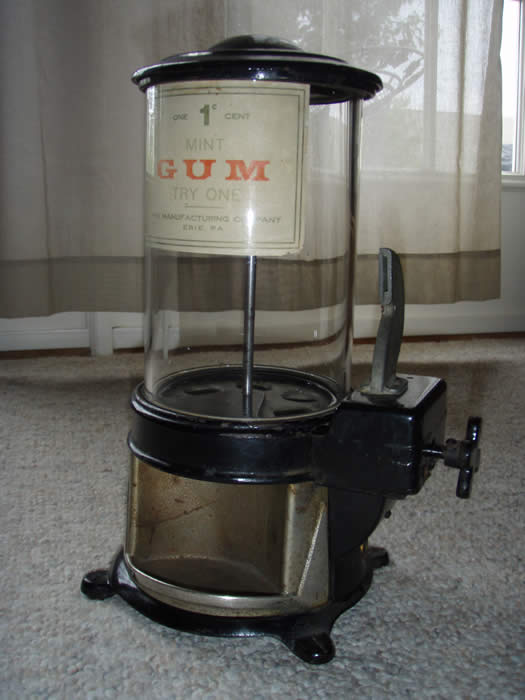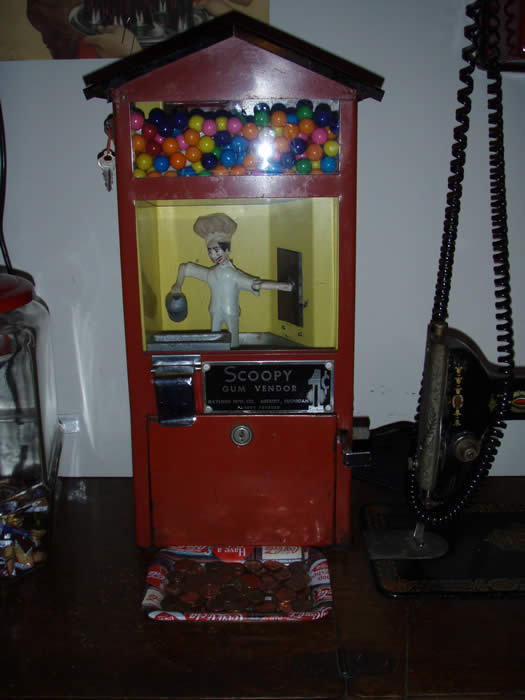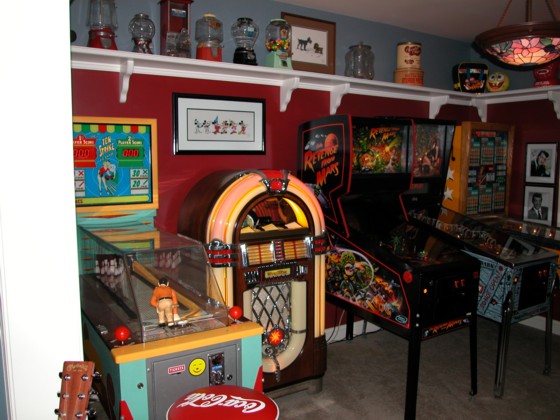 We are also very interested in birds and BULLDOGS (English and French). We own a Hyacinth Macaw (our Blue Front Amazon,"Gabby" passed away during the summer of 2006 and our African Gray, "Buzzard" passed away during the summer of 2004). We also own a Red Factor and Yellow Canary. We currently have two dogs, an English Bulldog and a French Bulldog. These pages also have pictures of our pets that we have loved and have passed away.
.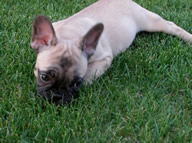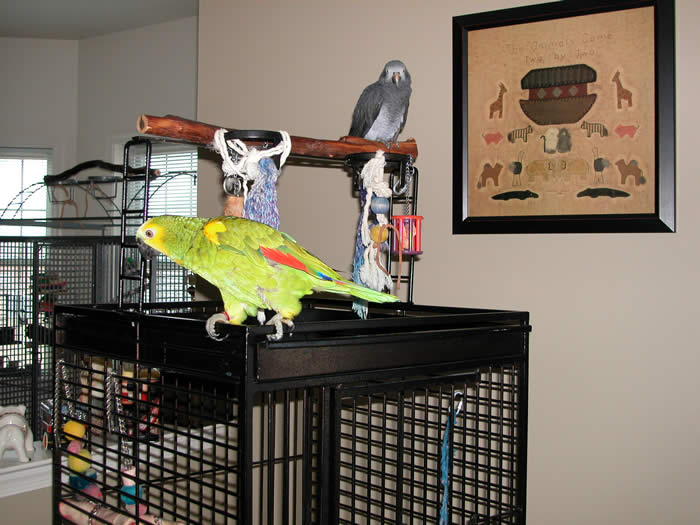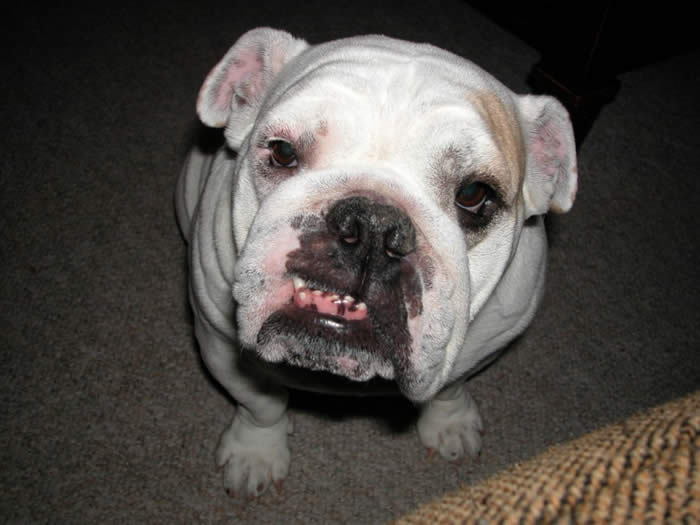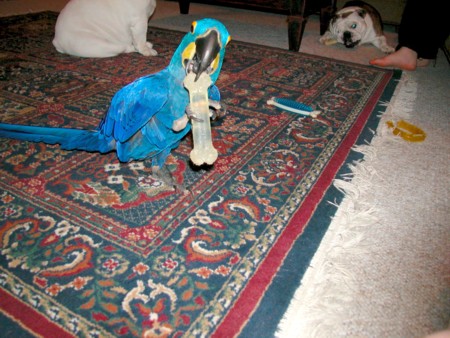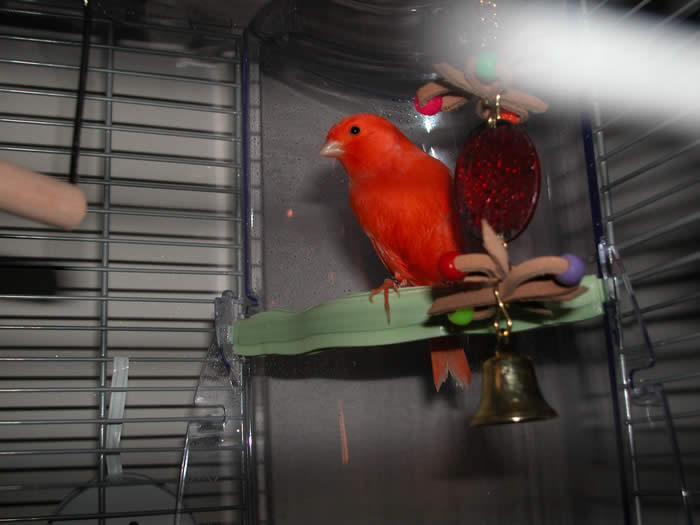 Here is a list of key words of some of the machine names and manufacturers I am always looking for. These machines are wanted: Columbus, gum,gumball, machine, slot machine, peanut, peanut machine, pinball, jukebox, Watling, Rol a Top, Rol a Tor, Superior, Mills, Advance, Hance, Master, Pulver, Coin op, Gottlieb, Ad Lee, Mansfield, Bluebird, Simplex, Globe, Griswold, Hamilton, Simpson, Leebold, Manikin Vendor, National, William Michael, Norris,R.D. Simpson, Leebold, Manakin Vendor, Manakin Vender, Baker Boy, Hance Peanut, National, William Michael, Norris, Gum & Peanut Machines, baker boy, Trade Stimulator, Slot Machine, Arcade, Countertop Games, Pinball, Antique Peanut machine, old gum machine, Adams gum, Adams pepsin gum, Adam's gum, Adams tin, Pepsin, Pepsin gum, Lighter fluid, old gumball machine, old peanut machine, E.E. Junior, EE Junior, E. E. Junior, The Old Mill, adams tutti frutti gum machine, Caille, Caille Bros., Universal Sales, Ace, Buckley, Buckley Bones, Reliance, Columbus peanut, Bally Reliance, Reliance dice, Caille, Pix, Albert Pix, Albert Pick, Scoopy, Scoopy gum, Triple Scoopy, Columbus, Doremus, Doremus vendor, Dr. Kings fruitlets,Watling, Mills, Advance, Hance, Hance Rex, Griswald, Grisswald, Red Star, Hance Standard Rex, Master, Master Fantail, Smilin Sam, Master Gooseneck, Pulver, Pulver Yellow Kid, Zeno, Fortune, Ideal, Ideal hot nut, columbus peanut vender, Ohio, Zeno vendor, Zeno vender, Pulver vender, Pulver vendor, Pulver tab gum, Pulver chcolate,Pulver Buster Brown, little nut, maquire, coca cola chewing gum, doremus, columbus peanut machine, columbus peanut, automatic, elgin, adams, enterprise perfection, little giant, faust maier, breath pellet, pure gum, freeport twins, dragons, merchant, gabel, jim dandy, globe, glass, graves, honey breath balls, gravity, griswold, red star, red cross, Automatic Clerk & Advertising Co., Mansfield gum, Hamiltion mickey mouse and his pals, Kola Pepsin, Pulver Kola Pepsin, Nut House, Little Nut House, Little Nut Vendor, Lion Vender, Pix, Albert Pix, Kemaco, Lukat, lucky cat, Advance Climax 10, Coin op, coinop, robo,robo gum, coin-op, Gottlieb, Brice Williams, Chicago, Chicago vender, Simpson, R.D. Simpson, Leebold, Simplex, Manikin Vendor, National,Stanley, Stanley hot nut, hot nut, hot nut vender,Van lite, Yu chu, Yu-chu, Smilin Sam, Happy Jap, Superior confection, William Michael, Wm. Michael, Wilburs, Wilbur, Wilburs Chocolate, Norris, North Western, Scoopy gum, Owl, Caille, Masters, fantail, gooseneck, Reliance, Bally, Reliance Dice, Simpson, Simpson Jr., Model A, Lincoln, Bally Dice, Rock ola, operators vending machine supply co.,Rockola, Superior, hance, zenith, peerless, rex, breath pellet, convertible, hilo, royal ace, wrigley's, wrigley, old mil,l the hoosier, ideal, jacob's, jacob gum, play football, play basketball,Mlle. zita, madam zita uncle sam niagara goo goo ee junior kemaco kelley gum leebold san francisco st louis berkley cal. lehman & sons liberty gum lincoln nut house little nut vendor, adams tutti frutti, mexican fruit, pansy gum, baker boy, manikin vendor, lion, matthewman,caille, william michael, miles pk, millard, gold seal, orbit jr., little perfection, mills gum, windmill candy machine, wind mill, modern, morris, sweet chocolate, national, novelty, breath pellet, master star door, double neko, fantail, gooseneck , vender, Zeno, dispenser, climax, advance, mansfield,OVMS, Ace, northwestern, Adams, Jennings, Groetchen, Daval, Rex, Wilbur, Wilbur's, Wilbur's chocolate, Wilbur's chocolate machine, National vender, Colgan, Colgan's Taffy Tolu, Taffy Tolu, Doremus, Pulver's, Pulver Gum Machine,Rare, tab gum, stick gum, rare gum, Watling, Derby, Derby confection vender, Hot Chu, Sani Chu, Pulvers Gum Machine, Pulver Gum Vender, Superior, superior derby, superior races, paces races, bakers races, columbus star, columbus dart, ten strike, ten pins, gottlieb, Pulver's Kola Pepsin, Pulver, Too Choos, Watling cherry, watling cherry front, Watling bird, bird of paradise, Pulver cop and robber, Yellow Kid, Buster Brown, porcelain, Chicago Coin, Leebold, Simplex, Basketball Champ, Williams, Taffy Tolu,Ten Strike, Evans, Pace, Evans Races, Paces Races, Chicago
google0a9c438359b9dc64.html